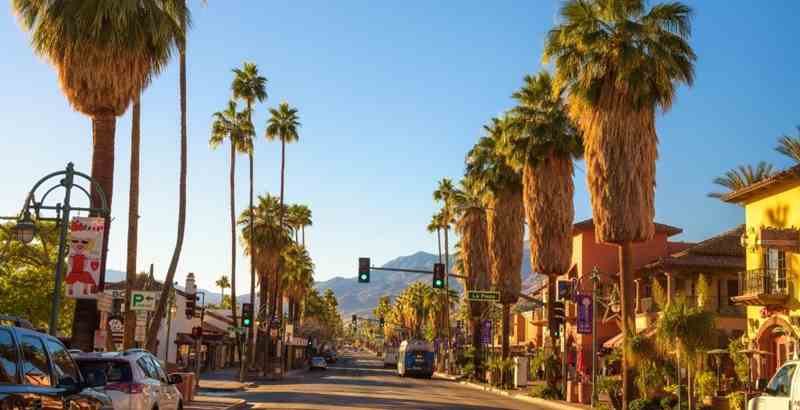 Renting A Car in Palm Springs
A Guide to Renting a Car for Tourists and Business Travelers in Palm Springs
Welcome to Palm Springs, California. A vibrant city in the heart of the Coachella Valley, Palm Springs is a popular destination for tourists and business travelers. With its stunning desert landscapes, world-renowned golf courses, and luxurious resorts, it's no wonder people flock here from all over the globe.
But whether you're here for work or play, one thing is certain: getting around town without a car can be tricky. That's where renting a car comes in handy. In this guide, we'll take you through everything you need about renting a car in Palm Springs.
Choosing the Right Car Rental Company in Palm Springs
Many options are available when renting a car in Palm Springs. However, not all car rental companies are created equal. Before making a reservation, it's important to research and choose the right company for your needs.
Consider what type of vehicle you'll need. A compact or economical car may suffice if you travel solo or with someone else. On the other hand, if you're traveling with a family or group of friends, an SUV or minivan might be more appropriate.
Price. While affordability is important when choosing a rental company, don't let it be the only deciding factor. Read reviews and check out each company's policies before making your final decision.
Take customer service into consideration. Will the rental company provide roadside assistance in case of an emergency? Are they easy to contact if any issues arise during your rental period? These are all questions worth considering before selecting your chosen provider.
To compare prices or book a rental vehicle, see car rental services in Palm Springs.
Car Rental Options in Palm Springs
Renting a car in Palm Springs is an excellent option for those who want to explore the city or travel to nearby destinations. Several car rental companies operating onsite include major brands such as Hertz, Avis, Budget, Enterprise, and National. They offer competitive rates and various types of vehicles, from economy cars to luxury SUVs.
Suppose you want convenience and flexibility. In that case, booking your reservation in advance online with your preferred rental company is recommended. This will ensure you get the vehicle type you want upon arrival.
Picking up your rented car onsite is straightforward. Follow the signs to the baggage claim area, where most rental counters are. Once there, present your booking confirmation or voucher and valid identification documents such as a passport or driver's license.
After completing all necessary paperwork and paying any required fees or deposits (if applicable), you'll be handed keys to your rental car, parked in designated areas outside the terminal building.
Renting a car provides an easy way for tourists and business travelers to navigate their stay in California without relying on public transportation or ridesharing services.
Driving Directions from Palm Springs International Airport
Once you arrive at Palm Springs International Airport, getting to your destination is a breeze with the help of rental cars. First, you must obtain driving directions from the airport to your desired location. Fortunately, plenty of resources are available to help you navigate Palm Springs and surrounding areas.
Before leaving the airport, note that it's off Interstate 10 and Highway 111. Depending on where you're headed in Palm Springs or beyond, these highways will likely be part of your route.
To obtain specific driving directions, consider asking for assistance at a car rental counter or using GPS software on your smartphone or other mobile device. Many car rental companies also offer maps and brochures highlighting popular tourist destinations and attractions off the beaten path.
When planning your route beforehand, be sure to factor in traffic conditions during peak hours or special events such as the Coachella Music Festival, which occurs nearly every year.
Benefits of Renting a Car in Palm Springs
Renting a car in Palm Springs can be highly beneficial, especially for tourists and business travelers, because it allows them to explore the city at their own pace without relying on public transportation or ridesharing services.
Another advantage is that renting a car provides flexibility regarding travel plans. You can easily change your itinerary if needed depending on weather conditions or unforeseen circumstances. This means that you can make impromptu stops along the way without worrying about additional fees.
Moreover, car rental companies offer various vehicles, such as SUVs, compact cars, and luxury sedans. You can select the best option for your trip depending on your preference or group size.
Renting a car gives peace of mind regarding safety and security while traveling around Palm Springs. With GPS navigation systems available in most rentals and emergency assistance provided by rental companies should anything happen during your trip - having control over your mode of transport helps alleviate stress levels too.
What are the terms and conditions of the rental car agreement in Palm Springs?
Before renting a car in Palm Springs, it's important to understand the terms and conditions of your rental agreement. These agreements are legally binding contracts that outline the rights and responsibilities of both you and the rental car company.
Typically, rental car agreements cover insurance coverage, fuel options, additional drivers, underage driving fees, mileage limitations, late return fees, and damage charges.
Always read through the entire agreement carefully before signing anything. If there is something you need help understanding or agreeing with within the contract language, ask for clarification from the rental agent.
Inspect every inch of the vehicle before leaving to ensure any pre-existing damages are noted on your agreement. This will help avoid any potential disputes over fault for damages later on when returning it.
What documents are needed before a foreigner can rent a car in Palm Springs?
You must have a valid driver's license from your home country recognized in the United States.
Additionally, most rental car companies require renters to be at least 25 years old. However, some companies will rent to drivers between the ages of 21-24 but charge an extra daily fee for young drivers.
You will also need a major credit card for payment and deposit purposes. All rental car agencies may not accept cash deposits or debit cards.
It's always wise to bring proof of insurance coverage provided by your auto policy or through purchasing optional insurance offered by the rental car company. This ensures that you are covered should any accidents occur during your rental period.
Learn how to obtain an International Driving Permit to drive in the United States.
What payment methods are available for international customers?
International customers renting a car have several payment options. Most major credit cards, including Visa, MasterCard, American Express, and Discover, are accepted.
It's important to note that most rental companies require a valid credit card in the primary renter's name for security purposes. Additionally, some rental companies may require an additional deposit if paying with a debit card.
Cash payments are rarely accepted by car rental agencies due to security concerns. However, some smaller local agencies may accept cash payments upon request.
It's best to check with individual rental companies about their policies regarding alternative payment methods such as traveler's checks or wire transfers.
It is recommended that international customers confirm their preferred payment method with the chosen car rental company before arriving for a seamless and hassle-free travel experience.
Tips for Avoiding Rental Car Fees and Charges in Palm Springs
When renting a car, it's important to remember the additional fees and charges that can come with it.
Always return the car on time. Late returns can result in hefty fees or even an extra day charge. Plan your trip accordingly and allow enough time to return the car before its due date.
Be aware of mileage restrictions. Some rental companies may limit how many miles you can drive daily or overall during your rental period. If you exceed this limit, expect to pay an additional fee per mile driven.
Remember fuel charges. Rental companies often require renters to return the car with a full gas tank or risk being charged a higher rate for refueling by the company itself.
Inspect the car thoroughly before driving off the lot and take note of any existing damage or issues. This will prevent you from being held responsible for damages not caused by yourself during your rental period.
What should a foreigner do when driving in Palm Springs for the first time?
Driving in a new country can be intimidating, especially for foreigners unfamiliar with the local rules and regulations. However, with some preparation and common sense, driving in Palm Springs as a foreigner is manageable.
It's important to know that traffic moves on the right-hand side of the road in Palm Springs. This may seem obvious, but if you're from a country where traffic moves on the left-hand side of the road, this can take some getting used to.
In most areas, the speed limit on California multilane freeways is 65 miles per hour, while in others, it is 70 miles per hour. On two-lane roads, the speed limit is typically 55 mph. The standard speed limit on city streets is 35 miles per hour; however, in residential areas and near schools, the limit is typically 25 miles per hour.
Familiarize yourself with local laws or customs that may differ from what you're used to. For example, the law requires all passengers in a vehicle to wear seat belts at all times.
Pay attention to speed limits and other signs on the road. Driving too fast or ignoring traffic signals could result in fines or accidents.
Feel free to ask locals for advice or directions if you feel like you need help with something while driving. Most people will happily help and offer suggestions based on their experiences navigating Palm Springs' roads.
What are the rules for parking and driving in Palm Springs?
When renting a car, it's important to familiarize yourself with the rules for parking and driving. Being aware of these rules and regulations ensures an enjoyable trip without any unpleasant surprises.
Always remember to drive on the right side of the road. Many roads have posted speed limits, so adhere to them. Additionally, if you need to familiarize yourself with driving in mountainous areas, take extra caution when navigating steep inclines or declines.
When looking for a place to park your rental car, watch out for red curbs as they indicate no parking zones. Yellow curbs only signify loading and unloading zones, while green curbs are designated short-term parking zones.
Some areas may require payment for parking using meters or pay stations that accept cash and credit cards. Check signage indicating time limits or restrictions before leaving your vehicle parked.
Avoid leaving any valuables visible inside the car to deter thefts from potential break-ins.
For more affordable and reliable parking needs, see parking options in Palm Springs.
What should you do if the cops pull you in for a traffic violation?
Being pulled over by the police is never a pleasant experience, whether you are in your hometown or traveling in Palm Springs. Suppose this happens to you while driving a rental car. In that case, it can add an extra layer of stress and confusion. Here's what you should do if the cops pull you over for a traffic violation:
Stay calm and polite when interacting with law enforcement. Remember that they are doing their job to keep everyone safe on the roads.
When asked for your driver's license and registration, promptly provide them. As a foreigner renting a car in Palm Springs, make sure to have all necessary documents on hand at all times.
If the officer issues you a ticket or citation, ask for clarification about what it entails and how much it will cost. Depending on the severity of the violation, there may also be additional penalties, such as points added to your driver's license.
Before leaving Palm Springs, you must take care of any fines or citations so they don't follow you home. Remember that following traffic laws is important for avoiding tickets and ensuring safety for yourself and other drivers on the road.
What if the car breaks down during the rental period?
It can be frustrating when a car breaks down, especially if you're in an unfamiliar place. Remember that accidents happen, but staying prepared and knowing what steps to take can help minimize stress and inconvenience during your travels.
If your rental car breaks down during the rental period, the first thing to do is stay calm and pull over to a safe location.
Contact the car rental company immediately and inform them of the situation. They will provide instructions on what steps to take next. Sometimes, they may send roadside assistance or arrange for a replacement vehicle.
If you have travel insurance, check if it covers any costs associated with a breakdown. Keep all receipts and documentation related to repairs or towing as proof of expenses incurred.
Ensure to follow any instructions provided by the rental company regarding returning or exchanging the vehicle after a breakdown. Please do so to avoid additional fees or charges.
What to do if you're involved in a traffic accident?
No one ever wants to be involved in a traffic accident, but if you are in this situation while renting a car, you should take some important steps.
Ensure everyone involved is okay and call for medical assistance if needed. Then, notify the police immediately and wait for their arrival at the scene. Make a note of any injuries sustained or damage caused during the accident.
Exchange insurance information with the other driver(s) involved and gather contact information from witnesses during the incident. Take photos of all vehicles involved as well as any visible damage.
It's also important to report the accident to your car rental company as soon as possible so they can provide guidance on the next steps regarding repairs or replacement of vehicles.
What other transport options are available in Palm Springs?
For those who prefer private transportation, taxi cabs and ridesharing services like Uber and Lyft are available in Palm Springs. These options may be more expensive than public transportation but they offer convenience and flexibility.
Another unique mode of transportation in Palm Springs is the Buzz Trolley. This free trolley service runs through downtown Palm Springs every Thursday through Sunday evening, stopping at popular restaurants, shops, galleries, and entertainment venues.
For more information about local transport alternatives including buses, taxis, and trains - see transport options in Palm Springs.
What must-see attractions I can visit using a rental car in Palm Springs?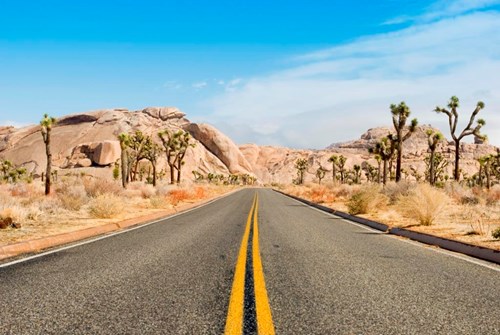 One of the must-see attractions in Palm Springs is the Indian Canyons. These canyons offer hiking trails with breathtaking views of waterfalls and streams.
Another popular attraction in Palm Springs is the Aerial Tramway. This tramway provides an unforgettable experience, taking visitors up to 8,516 feet above sea level for panoramic views of the Coachella Valley.
For art enthusiasts, Palm Springs has plenty to offer with its various galleries and museums, such as the Annenberg Theater and the Palm Springs Art Museum.
Nature lovers can visit Joshua Tree National Park or Moorten Botanical Garden.
To know more about outdoor attractions that you can visit during your stay in the city, see details about the best tourism offerings available in Palm Springs.
What types of accommodation are available in Palm Springs?
Palm Springs offers a variety of accommodation options to suit any traveler's needs and budget. From luxurious five-star resorts with all the bells and whistles to intimate bed & breakfasts, everyone can find something suitable for their vacation in this desert paradise.
There are also modern apartments offering plenty of amenities while still being close to all the attractions Palm Springs offers. There are great affordable motels throughout town for those on a tighter budget.
There is a range of budget-friendly accommodation options starting from around $50 per night and luxurious resorts costing up to several hundred dollars per night. For those looking for something a bit more upscale with all the amenities you'd expect from a luxury resort, including pools, spas, and restaurants, plenty of 5-star hotels are available too.
To compare prices or book a hotel for your stay, see detail information about the finest hotels and accommodations in Palm Springs.
UNBEATABLE VALUE CAR RENTAL

FREE
Amendments,
FREE
Cancellations,
NO
card fees!

airport_shuttle Need Airport Transfers?
Palm Springs International Airport News and Information